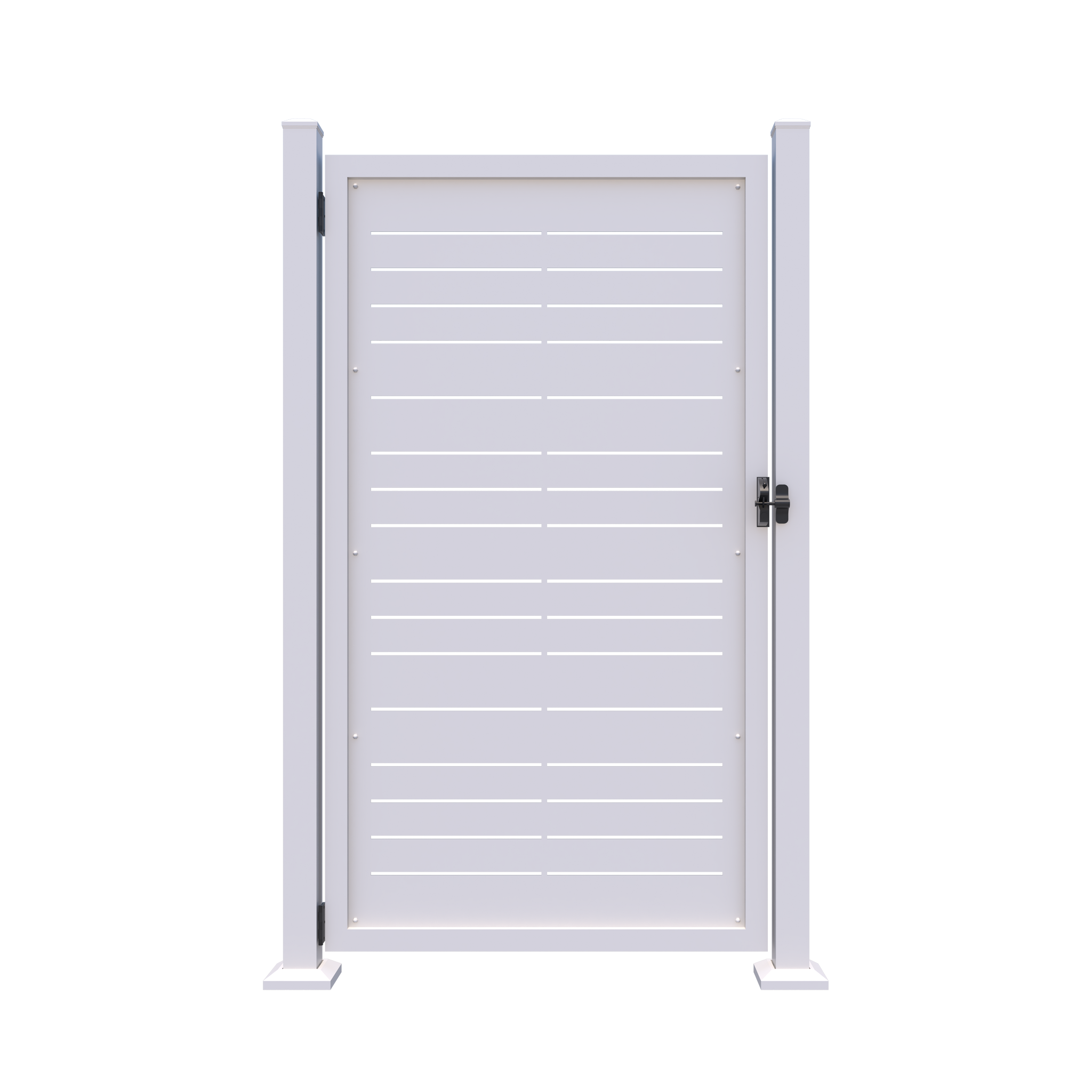 Custom Width Privacy Gate (Horizon) 68"H
93% Privacy - Gate & latch included, posts sold separately.
This item requirs a 4-5 week manufacturing lead time.
---
Looking for sizing over 48" W?

Sizes over 48" would be considered fully custom. Please visit this link and fill out our form.
Gate Specifications
Introducing our HIDEAWAY aluminum laser cut gate, designed to add style and security to your property. The gate is made from durable aluminum and features a powder coated finish, ensuring it will withstand the elements and maintain its sleek appearance for years to come.
The frame is expertly welded for added strength, and the laser cut design adds a unique touch to this already impressive gate. The gate is easy to install and comes with all necessary hardware.
With its sleek and modern design, this gate is sure to make a statement on any property. Whether you are looking to add security to your home or business, this gate is the perfect choice. Don't miss out on this high-quality, long-lasting addition to your property.
Lead time 3-5 weeks
Latch & hinge info below
Standard 68" gates mount 70-72" from ground/surface to top
*POSTS SOLD SEPARATELY*

LOOKING FOR CUSTOM DESIGN, HEIGHT, OR LARGER SIZES? CLICK HERE!
Material
0.100" Powder Coated Aluminum
Warranty
Limited Lifetime Warranty
Latch & Hinge
D&D Technologies. See Below.
D&D Technologies
Latch & Hinge
A company dedicated to the design and manufacture of quality, state-of the-art gate latches, locks and hinges. They are the trusted name in innovative gate hardware and our Australian-made products are sold worldwide. Items are included with purchase. Available in Black or White.
TRUCLOSE® Hinge
TruClose® Safety Gate Hinges are the world's most trusted child safety gate hinges. These polymer hinges were devised to overcome all the problems associated with conventional gate hinges – rust, binding, sagging and staining. The engineering-grade polymers and a stainless-steel closing spring deliver hinges designed to last a lifetime.
LOKKLATCH® Regular
LokkLatch® REGULAR is the ideal general-purpose gate latch for many gates around home, gardens and back yards. It takes a radical new approach to the "gravity latch" principle and combines the benefits of key-lockability and reliable latching action with superior design and durable components. Made of strong, rust-free polymers and stainless-steel components that won't rust or corrode.
Purchased four of their branch screens and could not be happier. Their customer service was excellent, gave me some very good advice on the mounting methods and shipping was quick considering how everything has slowed down lately. Items arrived in perfect condition and my contractor had no issues installing. They look awesome and are a focal point of my new deck. Very pleased with every aspect of the hideaway screen.